Our Story
Dry Fusion system gives a new standard of cleaning never before available. The system cleans and dries at the same time we guarantee the carpets will be dry in 30 minutes and available for use. Dry Fusion has been developed for today's carpets. Dry Fusion is the only carpet cleaning system that hot cleans, deodorises, stain protects then heat dries every type of carpet.
It's all in the same process, and because it is patented, nobody else can use this amazing system of cleaning. By taking all the best features of hot water extraction, the best features of dry cleaning (low moisture, mechanical agitation) and combining them together with the patented hot cleaning pad system that constantly heats the fibres as they are being cleaned – you have some of the most outstanding results ever seen.
Two unique mechanisms work to keep Dry Fusion cleaned carpet virtually stain free to maintain that just cleaned look longer. A Fluorocarbon Resin (a Dupont Specialty) places an invisible protective shield over every fibre during the cleaning process. It helps prevent dry grit, dust as well as spills lodging within the carpet. Even walked in mud and oily spills have difficulty seeping in.
Because the fibre is effectively "non stick" when you DRY FUSION clean, vacuuming removes more soil, plus the vacuum cleaner is easier to push. There is no other system like this – it cleans, adds stainblocker and dries in one pass. It isn't wet cleaning or dry cleaning. Isn't this what you need for your carpets?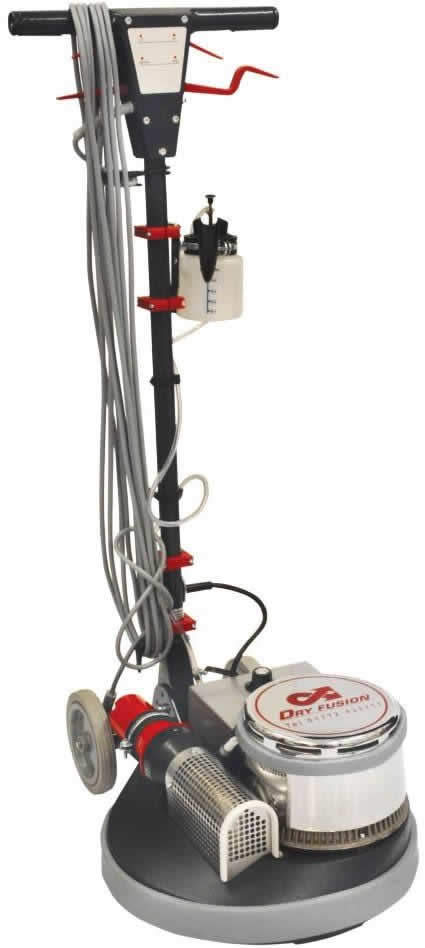 What We Do
We offer a unique solution 
Extraction and other rotary dry cleaning methods use high pH presprays to remove oily soils and protein stains. Sometimes this is followed by an acid rinse to neutralise. Most carpet mills, especially using wool or stain treated nylon reject any exposure to prespray of pH 10 to 12, even if only on the carpet for 5 minutes. Damage can take place in this critical exposure stage. Dry Fusion uses novel technology that removes the heaviest soils from the fibre at pH 7.2. A neutral pH is approved by all carpet fibre manufacturers and carpet mills.
Revolutionary NEW Carpet Cleaner! 30 Minute Drying Time!
Our system uses 95% less water than other systems
Produces no waste, uses non hazardous and biodegradable solutions

Satifaction Guaranteed.
Contact Information
Serving Scotland Commercially.
Dry Fusion Scotland,
3 Westgate,
Dunbar EH42 1JL
Email: freequote@dryfusionscotland.co.uk
01368 863 500
Book a Cleaning or Customise a Plan Today